Tips for toddlers' passport photos
2016-12-03 17:16
Tips for toddlers' passport photos
Find out how to take a good Canadian passport photo for toddlers.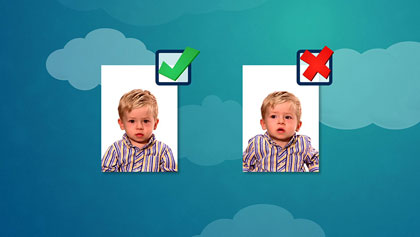 This video is also available in HD on YouTube where you can leave a comment, share it on your social network or embed it into your site.
Transcript: "Tips for toddlers' passport photos"
Video length: 1:39 minutes
An animated blue sky background appears with a few clouds and a small depiction of a Canadian passport.
Narrator: It can be challenging to take a good passport photo of a toddler.
Two photos of the same toddler displays, one has a green checkmark and the other has a red X in the upper right hand corner.
Narrator: Here are some important tips:
Photos disappear and are replaced by a light bulb. The background changes to a simple two colour pattern. "The clothing" appears as text along with an animated shirt.
Narrator: You should dress your child in bright colours to ensure high contrast with the background. Avoid white.
Background changes to white and a seated toddler is shown wearing a bright orange shirt. A green check mark is shown to the top right of his head. That toddler is replaced by another toddler wearing a pink shirt. She also has a green check mark to the top right of her head. She is replaced by a third toddler wearing a white shirt. He has a red X to the top right of his head.
Simple two colour background with the text "The Face" and an illustrated face silhouette appears.
Narrator: According to international rules, passport photos must be taken with a neutral expression. No smiling!
Background changes to white and three toddlers are shown. The second toddler is smiling and has a red X to the right of his head.
Narrator: The child's entire face must be visible and square to the camera not tilted.
The third toddler has a rectangular frame drawn around her face and upper body with a quartered circle framing the face.
Narrator: A great way to get a toddler to look straight at the camera is for the parent to stand right behind the photographer.
A woman emerges from behind the photographer and positions the toddler just before she snaps a photo.
Narrator: Make sure that there are no shadows on the child's face, shoulders, ears or in the background.
Background changes to a blue sky with a few clouds. A photo of a toddler appears. The photo shows various shadows.
Narrator: Photos are valid for six months from the date they were taken.
A diagram depicting a person's head neck and shoulder is shown. Two face types are represented: round and oval. There is a dotted line under the chin and a dotted line at the top of each face type's head.
There is an arrow on the left connecting the dotted lines of the round face type, and an arrow on the right connecting the dotted lines of the oval face type.
The text "Valid for 6 months" appears on the screen.
Narrator: We recommend that you call ahead to make sure the photographer has experience taking passport photos of toddlers. Also, if you do not think that the photo meets all of the requirements, ask the photographer to take another photo.
The photo disappears and an animation of a cell phone takes its place. A depiction of a photographer appears in the phone's display screen. A photo of a toddler replaces the phone and is surrounded by question marks.
Narrator: For more information on photos for Canadian passports, visit our website.
The text "Canada.ca/passport" appears.
Background fades to black, the copyright message "Her Majesty the Queen in Right of Canada, represented by Citizenship and Immigration Canada, 2015." is displayed followed by the Canada wordmark.
浏览 次